HydroDefense™ Flood Plank™
FP-530
HydroDefense™ Flood Planks™ provide flood protection in vertical increments of six inches. They are used by stacking planks on top of one another to build a watertight barrier in front of your opening. These lift out flood planks are available in various horizontal lengths to meet your opening requirements, acting as stop logs that keep flood waters at bay.
HydroDefense Flood Planks are stored away from your opening, making them the perfect solution when you need protection in place only at the time of flooding. They're ideal for protecting walk doors, retaining walls, driveways and storefronts. This product is designed and tested to meet ANSI 2510 and FM 2510 approval standards.
For larger openings, please check out our other HydroDefense™ Systems
Request More Info
To download specifications and product information, see the black tabs located in the upper right corner of your screen.

HYDRODEFENSE™ FLOOD PLANK™ QUICK FACTS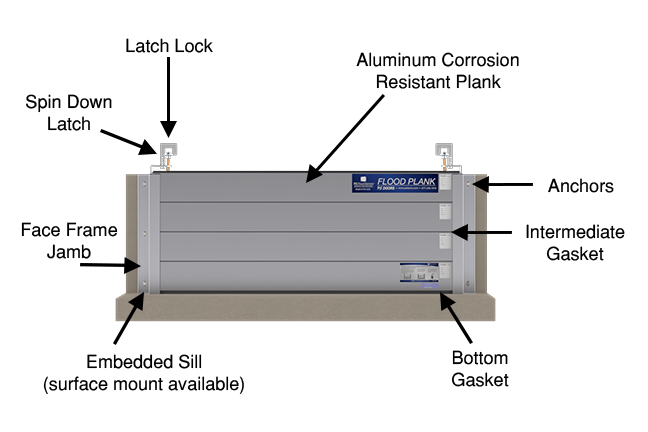 HYDRODEFENSE™ FLOOD PLANK™ BENEFITS
Aluminum construction, corrosion resistant
Latch system designed for simple, easy deployment
Planks are stored away from your opening – installed at time of flooding only
Custom designed to fit your opening size
Simple installation – in most applications, lightweight planks can be installed by a single individual
Compression sealed with simple latch system
Sill embeds are flush to concrete, no trip hazard
Frequently Asked Questions
The HydroDefense Flood Plank is approximately three pounds per linear foot.
The HydroDefense Flood Plank can be stored away from the opening in a fashion that does not compress the gaskets.
Yes, the standard design is for the jamb channel to remain on the wall when the HydroDefense Flood Planks are not in use. There is an option for a completely removable system.
There is a gasket on the bottom of the bottom plank that seals down to an embedded sill (in the concrete). Though it is always recommended, if conditions are ideal with a completely flat and smooth surface to seal to with no variations, joints or cracks, then the sill may be omitted.
Order Request
If you'd like more information about how to order this product, please give us a call at the number below or use our Information Request online form.
877-446-1519
We are here five days a week from 8am-5pm.